An augury of love
Sara Abdullah
Anyone who has an inkling of the history of Indian art must know of the Raja whose paintings were the union of light and beauty. Of his many exquisite paintings, the one I allude to is the Woman holding a fan.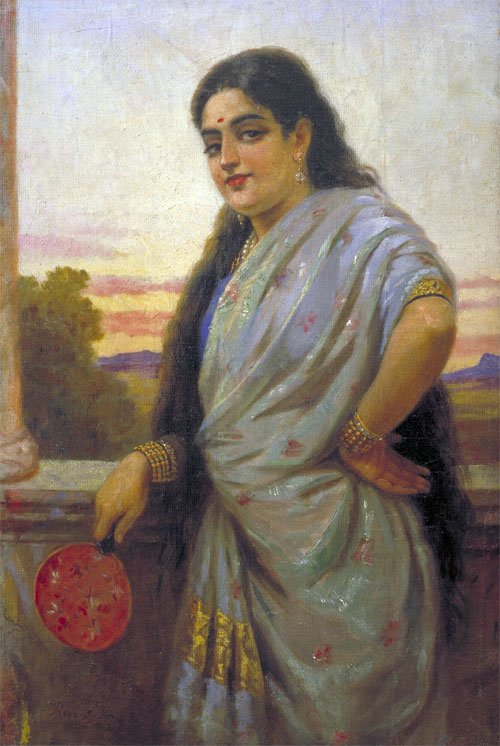 Have you, gentle reader, seen the picture come to life? I haven't, though I know of one who has.
Her hair parted in the center, falling in waves, touching her thighs, flirting with the breeze. Her full red lips are set with a playful smile. Eyes where humor, intellect and grace shine forth, adorned by eyebrows like wisps of night. The dangling pearl earrings set on the petal like ear, watching its reflection on porcelain cheeks. An aristocratic nose.
On her rounded wrists she wears gold and pearl bangles. A dimple appears on her comely elbow. The pearls on her neck repose framed on a full bosom. Her rosy dewy brow spoke of assurance and harmony.
Can you picture her? But then you have seen Her in the Raja's gallery.
But my correspondent does not speak of the lady in the painting, but one of flesh and blood whose resemblance to the above painting was quite astonishing. I see you are interested; I shall relate the story as told to me.
The year was 1930. In a quaint little village in India, there were festivities to welcome a young man. Mr. Kaleel Ahmed, a scholar had returned from England after his studies. While he was in England, a brown voice in the perfect London accent had asked him to stay on. But his father's death had recalled him away from the mirror. And now he was part of India's landed gentry. The old bungalow had its new master, but what about a new mistress. Who would this young stalwart marry? There was much talk in the village. Who would be the chosen bride? "He looks and acts like a Sahib" said Mariuma, who worked at the bungalow kitchen. At last, a wife arrived. An aunt of Kaleel's deceased father had been to Hajj recently. She had taken a liking to a certain Salma, whose daughter's unsurpassed beauty and accomplishments had been a topic amidst counting the rosary during the journey.
Thus, Mihrimah walked into the bungalow in her bridal attire holding Kaleel's hand. My correspondent was then, at the time, a child of eight, and along with other girls of the village school had gone to the bungalow gates to get a glimpse of the bride. The bride was walking in the garden near the rose bushes.
The sunlight played on the folds of her silk sari, and the girls claimed it was lavender, white, blue green and none could agree on the color, but all agreed that the young landlord had found the perfect bride. That was when my correspondent was reminded of a picture in her art book.
Now the villagers wore mostly skirts, dhotis, blouses, long maxis. A silk sari was rarely seen.
"What fine ornaments on her person! What jewels and pearls!" exclaimed the womenfolk.
A decrepit old woman, who had lost most of her teeth but none of the sharpness of her tongue said that the beautiful folds of the sari must hide elephantine legs. Filaria was common then.
But she was proved wrong when the bride danced to Urdu Ghazals, light on her feet, floating gracefully. The Master and Mistress of the old bungalow were often seen at a game of chess. She wrote poems in quite a few languages. Her oratory skills did justice to the passionate lines.
Years passed. The young bride was a stately matron now. She was blessed with a little girl, a soul to educate for heaven and earth. And earnestly she set to the task of filling the home with songs and laughter.
An orphaned maid of fourteen was employed to look after the little girl in her nursery. A nursery filled by her mother's paintings. Now Mihrimah had a student in addition to her infant daughter, the young Thasneem. With great diligence Thasneem set to read and write, while she tied the little girl's hair, she hummed the songs taught by her mistress. For the first time in her life Thasneem who had been handed from one relative to another had found a home.
The Master and Mistress allowed her to freely roam in the treasure chamber, the bungalow library.
Many a rainy day did Mihrimah, Thasneem and little Mumtaz spent in the library. Kaleel always encouraged his wife's activities.
The mistress clad in her silk Sari, her abundant hair tied up in a bun held by a gold clasp, sat on an ornate chair pouring over the classics of faraway lands. Little Mumtaz sat on a cushion with her big wooden alphabets and her doll. Thasneem, plain and cheerful, sat on the carpeted floors. Ink marks on her hands, busy with her letters.
Now Mr. Kaleel had made ever so many reforms in the management of the land and the workers conditions. He prided himself on his ability to move with the times. Folks said that he did not continue the Old Masters feudal ways. Nor did he become their counselor and guardian as his father had been in his day. Kaleel maintained a cool-headed distance from the workers, he did not know of their intimate affairs. He paid fairly for the work done.
Mihrimah knew the tenants well. Quite often she was seen walking towards a tenant dwelling with a word of solace for a young mother of an ailing infant or an old man ill in bed.
On these expeditions she took along young Mumtaz, who's lisping words and laughter filled the homes she visited.
Old Majeed who brought the fish likened her to a delightful little parakeet. But today little Mumtaz was unwell. Her pale face, burning red cheeks had made the mother rush with her to the local doctor.
Usually, the young doctor's assistant would visit patients at home. But the old apothecary no longer left his home.
Reassured by the doctor's words and medicine, Mihrimah returned home entering through the backdoor into the kitchen.
It was then that she felt something was amiss. Kaleel was at home. She knew it. But had he returned early? Matters of the land had kept him away for the past few days. She was about to call out but the words remained in her throat. Without calling out she suddenly knew he was in Thasneem's room.
Thasneem whose docility and obedience he had often praised. She who had off late not accompanied the Mistress on all her errands.
Everything followed in a daze.
Even though the Bungalow had high walls, gossip found its way above them.
"This is nothing new, the girl is of such breeding, this is what happens when you let a maid above her station…"
"It is a pity, so beautiful and generous a woman like Mihrimah to have to suffer…"
"Just pack the girl off, they have plenty of money, give her wages and chuck her out…"
"He is rich and he may keep a second wife, who knows she may bear him a son, after all it is permissible to have two wives…"
"Mihrimah must forgive him, for he is a good man. It must be an honest mistake; one gives in to temptation…"
"I heard he said the maid was off no consequence, he truly loves the Mistress…"
"The poor have no dignity; their honor is fragile…"
"He is a man; men will be men…"
These and many more opinions floated in the air. All these thoughts passed through Mihrimah's mind too. She looked at her lovely Mumtaz. At young Thasneem, pale, her eyes heavy and red. The years, the beautiful moments flashed through her mind. She saw vividly a sunset. She was sitting on the stone veranda cutting ripe mangoes. The air was filled with the chirping of birds. Kaleel sat besides her talking animatedly. One moment she was laughing as she ate the juicy mangoes. The next moment she found herself vomiting. She had been pregnant.
She walked towards the window. Tears rolled down her cheeks until at last she was sobbing. Kaleel had not yet returned. He had spoken of an official engagement that required him to be in a nearby town. He knew that she knew.
Mihrimah soon wiped her tears, her hair was done. She wore her ornaments and her daily countenance as she walked through the long corridors into the kitchen. She looked at Thasneem, who looked down impassively. At little Mumtaz busy at play.
That night Kaleel returned home. She would have cooled down. But he must apologize. 'Ah dearest and adored one', thoughts of her filled his mind from the moment he had left home.
He rushed to their room. The bedroom was empty, so was the nursery. No one knew where the Mistress had gone. At first Kaleel made enquiries at her father's home. Wherever she went, this was her home and she would return. The days became weeks, and the weeks turned to months, the months to years.
Whether Mr. Kaleel ever met Mihrimah we do not know. That would be another story.
But my confident who by then grew into a young woman and was married off to a faraway town knew of a lady who lived by herself and her daughter. She was still as graceful as the Lady with the fan. They said she wrote to the papers and asked men and women to join and rally for the half naked apostle who with love would send the White Masters back to their homeland. Along with them lived a young woman, fiercely loyal to her Mistress and daughter. An educated young woman who would soon find her place in free India.