SISTER AIMIE
Sara Abdulla
The verdict was given; I inhaled deeply while racking my brain. I had already given every excuse I could think of. This was during my final B.A exams. St. Clair College hostel has been my home for the past three years. I was to become a graduate in Philosophy.
But there was an obstacle before me. An obstacle in the form of a spectacled, square faced short haired, sari clad handsome lady of fifty-five – Mrs. Rosita Desiree Gomes.
"No Dana, I cannot give you your hall ticket unless you have enough attendance. You ought to have thought of the consequences before bunking so many classes; you will have to stay in the college hostel for the fifteen days holidays, for Christmas and New Year. The number of hours can be added to your present attendance and that should give you the bare minimum to qualify for receiving the hall ticket".
"No one will be there in the hostel, Ma'am" I said in a really tiny voice.
"The warden will be there" declared Ms. Rosita.
"I ought to disqualify you, the only reason I am giving this chance is due to your term exam marks".
Pride surged within me as I recalled that I had been the class topper for all the term exams. But I was soon contrite as I saw Mrs. Rosita getting up from her chair. A signal that the interview was over. I was dismissed.
That was how I came to spend the end of a year and welcome a new year alone in the St. Clair hostel. St. Claire, the ancient prestigious College of Philosophy and Liberal Arts was situated high up on a hill, North of Karnataka, a state in south India. The place was unequalled in its natural splendor. The college hostel had thirty rooms, four girls per room. My own room had the chubby Maria, a south Keralite with whom it was impossible to have a quiet moment. There was Raveena from my own home town who would sit on her bed after college hours and stitch lovely pillowcases embroidered with swans and flowers. There was Nicole, a Goan. Her homemade Guava preserve was something I could never have enough of and lastly the lovely Dechamma from Coorg.
But now the beds are empty. I sat alone on my bed. All the rooms are empty. Not a sound to be heard. I went down to the Wardens room. Our Warden was a wry old lady. Sister Lizzie, deaf in one ear. She wore an ochre-colored Sari and was usually reading the papers over and over.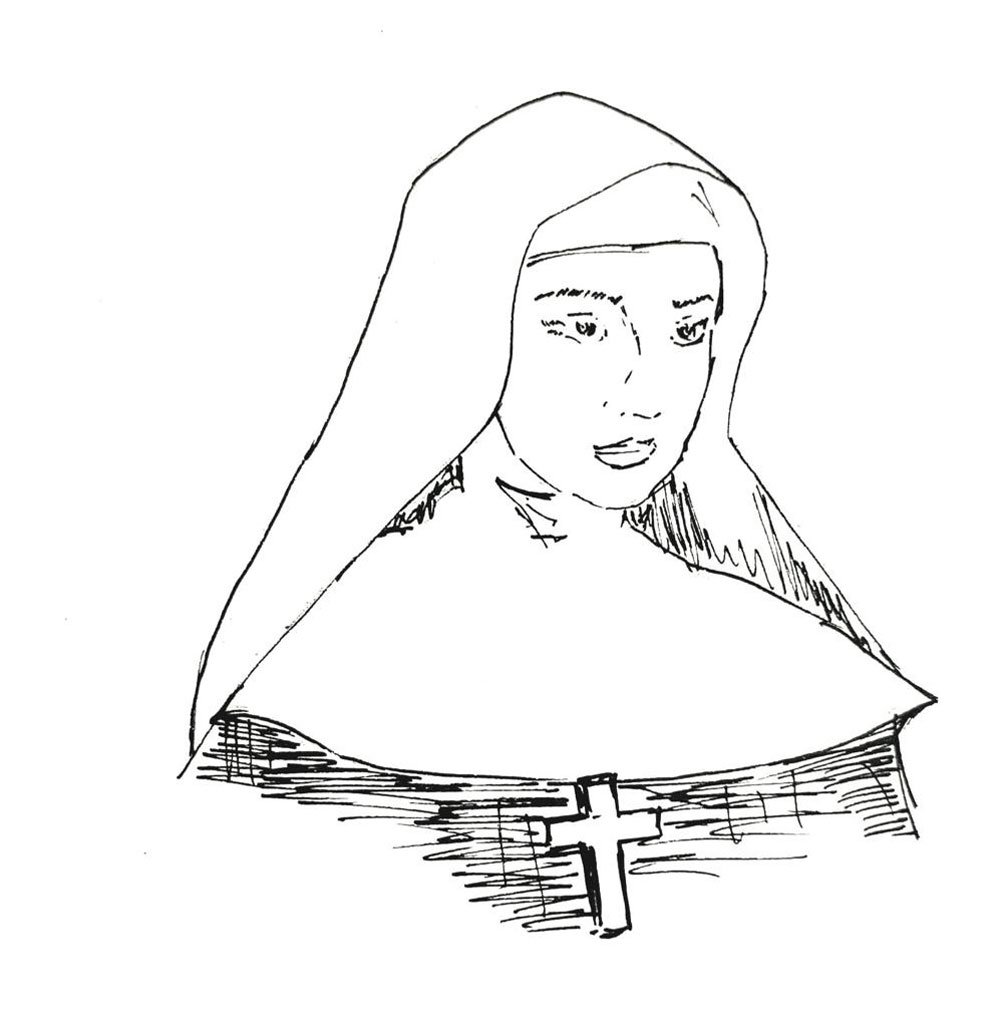 "Good evening Sister, I came down to have tea, can I bring you one?"
"Come, come, my Dana. I have already had my tea. Now how do you feel? Now you have to face the consequences for all your mischief" she said with a grin.
"What good did it get you to open the door for Nicole night after night and go gallivanting with those boys"
Indeed, I had opened the door with my expertise. We were caught. Nicole had eloped with Ajay, her boyfriend. She had not completed the course.
I felt I had endured enough sniggering. I walked to the mess, collected my jaggery tea and a cabbage cutlet and walked back to my room.
"Oh, how I missed going to The Tea Place or The Sunrise Bakery".
Instead of hot pakora's, lime juice, chocolate eclairs which was my usual fare, from the extra money I took from home, claiming an ungodly amount for stationary. Here I was with a miserable smelly cabbage cutlet.
Slowly I picked out a text, a novel by Thomas Hardy 'Tess of the D'Urbervilles'. Morning and night, I poured over the story, stopping only when the bell rang for meals. By the third day I had finished the book. The terrible fatalist Hardy had killed Tess, that virtuous innocent. I missed my home as I went that night to collect rice for dinner. There were turd shaped sausages too.
A few nuns sat in the corner and were quietly having their dinner.
"I don't want the pork" I told the cook. He grunted and handed me a papad instead. I missed all the girls. I wished even for Nagma, who walked around in her bra and panties and stole makeup.
The fourth day dawned. I felt slightly ill in the morning. In an effort to wake myself up I ran down the three stairs to the brown earthen pitcher and drank a glass of cold water. But somehow, I felt giddier. A visit to the toilet and I realized my body was clamped shut like a bank vault. After a long time squatting on that hole during which time, I felt the European toilet was an invention of which enough praise hadn't been given, I finally managed a stream of blood to flow out of my rear end.
Now I feel sick. That evening I met Sister Lizzie and explained the situation.
"I must get home; I need to visit a doctor" I exclaimed.
But Sister Lizzie merely smiled.
"Dana, enough of your tricks. I will send one of our Sisters with some medicine in the evening". It was clear she did not believe me. If only I had been like Raveena, quietly embroidering during my free time or like Dechamma who had secured a job as an HR manager even before her B.A. exams. I had played the fool, bunked classes, ate street food, brought on multiple food poisonings, ragged the juniors and played practical tricks on all the teachers. Now I had to be sick and alone in the deserted hostel.
That night there was rain and the mosquitoes got in. I pulled the net down on my single bed as I lay shivering slightly from the cold and my indisposed metabolism. That was when a sister entered the room.
"Don't get up dear, I am Sister Aimie" she introduced herself as she sat down at my desk.
I was surprised. I knew that there was a separate wing in the hostel for girls who were studying to be nuns. But I did not know most of them. Their timings were different from ours and their routine included a great deal of meditation, gardening and such activities. I was amazed that I had not noticed Sister Aimie before. But then I hardly spent time in college.
She looked remarkable. An exquisite oval face. There is an old saying in my native tongue "If teeth are regular, a face is half perfect, if the nose is straight, the face is fully perfect".
In the face I now beheld I saw perfect teeth, a perfect nose and two more than perfect eyes framed by arched sensual eyebrows. She had a glass of hot water with some herbs infused in it.
"Is that a drink Sister" I asked without taking my eyes off her.
"No, no" she smiled, "These are herbs from our garden, they will fill your room with fragrance, breath in and sleep. You will be better by morning".
After that night Sister Aimie would visit me every night. Her beige nun's habit covered a well-formed supple figure. Even in the ugly coarse sack cloth I felt she was terribly beautiful. Staring at the rosy lips parted into a gentle smile I began my complaints.
"Sister, I have to miss Christmas and stay alone in the hostel just because the Principal wants to teach me a lesson. Imagine! Christmas and New Year's, now I am sick too."
"Ah, my dear, I heard. Don't worry I will visit you whenever I am free".
Seeing that she was so kind and sweet I immediately took advantage as was my nature in those days
"Sister, tell me a story and I will go to sleep".
Sister smiled "I will tell you my own story then"
"I was born Aimie Shalini. I was the eldest of three girls. Our father was a poor music tutor. The Neighbours remarked that our home was lit up by our laughter and beauty.
But my father saw in us his own despair. What was beauty without a dowry? My parents told me that when I turn fifteen, I will hear the call."
"What call?" I interrupted
"The Call of God, my dear" Sister replied as she got up to leave.
Somehow, I felt too thrilled to sleep and twisted and turned in my bed. The morning passed quietly. I got my flask down to the parlor and filled it with the jaggery tea and brought it to my room. An obliging gateman bought me some banana chips and pound cake, though he forgot to give me the balance money. But at least I had some relief from the monotony of rice twice a day.
I found myself waiting for Sister the next evening.
When she came, Sister Aimie continued her story. She did not get the call at fifteen. Years passed; she was a young woman of twenty-one.
"One day as my sisters and I were tending to our garden a young man walked in. He was to be my father's student. Every day our home was filled with music. I sat in my garden. His deep voice became for me the waves of the ocean, the rippling of streams, the chiming of birds, the echo of the mountains".
"My little garden became all the world, in the moonlight we walked together" Sister seemed to have forgotten my presence as she delved into those memories.
She continued "We talked of music and theology. They say that only once do you meet your soulmate in your lifetime. I had met mine, in my herb garden. I was Eve, An Eve created first, who wished for Adam and Lo! God created him from a piece of her heart".
Sister got up to leave. I did not look up into her face but merely closed my eyes as though I were asleep and she left. I felt that I was in that fragrant garden. I could see the young couple, walking studiously apart but their hearts beating together.
The next day I waited eagerly for Sister Aimie. In the evening I set the stale cake and chips on the table and sat crossed legged on my bed.
Just after sunset she walked in.
I tried to not be inquisitive but I burst out "Sister what happened to him?"
"Ah" her eyes were grave as she smiled
"He had to leave; he had learnt all that my father could teach him. He told me that he would travel the world and drink to the music of the open roads. My heart wept. The songs that we had sung together would haunt me forever. In desperation, I flaunted my physical being before him. I sat with my hair open, the long tresses tumbling to my knees. I was alone upon our wooden swing making a garland of Jasmine flowers. Yet my lips could not utter the word 'Stay'. Burning desire can be as calm as the silver moon light. He left. I felt that I would hear the call now. But alas God did not call me. A year passed. My father too left for his eternal home. That was when I joined the convent".
Sister got up to leave.
I closed my eyes; I saw the lovers singing in unison. As she turned to pick the glass I asked "But are you happy today, Sister, did you ever meet him again?" I couldn't help being cheeky…
The next day I felt better. The weeks had passed. I went downstairs. There was our warden, sitting in the parlor with Rosemary the plump cleaning lady. I sat in a corner combing my short hair listening listlessly.
Rosemary was rosy cheeked, opulent, clad in a red sari. She was detailing the many problems that her six children drove her through, not to mention an alcoholic husband. Now Sister Lissie told her that discipline was the key to bringing up children.
"Don't ever break the basic rules" repeated Sister.
Rosemary sniffled. Her expression seemed to say "What would the old nun know, never having had a child herself. Anyone who had children of their own knew that each child was born with a new rule book".
But her face broke into a wide smile as Sister handed out a few cash notes to her. After exchanging a few pleasantries, I wandered in the hostel grounds.
"Where was the herb garden?' I mused "Never mind, I will ask Sister Aimie when she comes tonight".
When I entered my room, I saw it was 31st December, New Year's Eve. I slowly pulled down the calendar stuck on the cupboard between a poster of Hirthik Roshan, the actor, and a painting of a bouquet of flowers by Raveena.
That night Sister Aimie entered my room as usual. Yet again I was struck by her exquisite beauty. After informing her that I was feeling better, I immediately begged her to complete her story. Did she ever meet the young musician?
"Yes!" was the gentle soft reply. "Once in the stream of life we were cast together, two droplets. Our paths were destined to be away from each other, yet once again he was before me. Several years of convent life had made me a good servant of God. I do not boast of my ability, but God knows I have tried, I am an instrument of his mercy. The only things I brought from my poor home into the convent was a torn songless heart and my love to create gardens, I tended to my medicinal herbs all day. My fame grew as many a malady was vanquished by my hands".
"One day a man was bought into the Sisters of Charity. They said he suffered from a burning fever. He was found near the convent gate. One glance told me that my musician lay before me. I tended to him morning and night. At first his condition was such that he could not be moved. I insisted on staying up beside him through the days. These very herbs were placed to cool his feverish brain… snatches of our songs did he utter…sometimes he called out strange words… and fell silent again".
"Oh Sister, did he recover?" I asked anxiously.
"Yes, he did. He walked out through those gates. Once again away from me. It was then that I heard the call. God's call. My path was chosen".
Here Sister started praying in a low voice and I fell asleep, glad that she had finally heard the call.
The next day a new year began. My sentence was served. It was time for me to leave the hostel. I packed my bags and checked the train timetable.
I ran down to the parlor and informed the warden that I was going home.
"Thats good my girl, now you can write your exams" said Sister Lizzie.
"Sister, I want to enter the chapel garden and say bye to Sister Aimie".
Sister Lizzie looked at me quizzically. "Sister Aimie?" she asked "The one in the choir? She must be at practice".
"I don't know that, let me see if she is at her herb garden tending to her plants" I replied.
"Come in child" said Sister Lizzie.
I walked into the garden. A group of Sisters were having tea in a corner.
"Now who were you talking about and what garden?" asked Sister Lizzie again.
"Sister Aimie" I replied loudly so that her one working ear would hear.
That's when Sister Dominique turned around. Sister Dominique was old, a good ninety and bent completely.
Staring up at me with difficulty she asked aloud "Who wants Aimie? Is someone unwell?
"Oh no, I just want to see her and say goodbye" I replied.
Sister Dominque stared, blinked, then peering hard at me she repeated "Who wants Aimie…Beautiful young Aimie…Aimie and the boy…she is a good girl…she never got the call"
Two Sisters got up and spoke softly to Sister Dominique and led her away. She kept muttering "Aimie and the boy…"
"Sister Dominique isn't herself these days, the best must return to the Lord, infants in mind and heart… hurry off my child, don't miss your train" said Sister Lizzie.